Your browser doesn't support the features required by impress.js, so you are presented with a simplified version of this presentation.
For the best experience please use the latest Chrome, Safari or Firefox browser.
Arnd 'Justa' Marijnissen

Peter 'Piele' Tambach *


* in order of appearance, not importance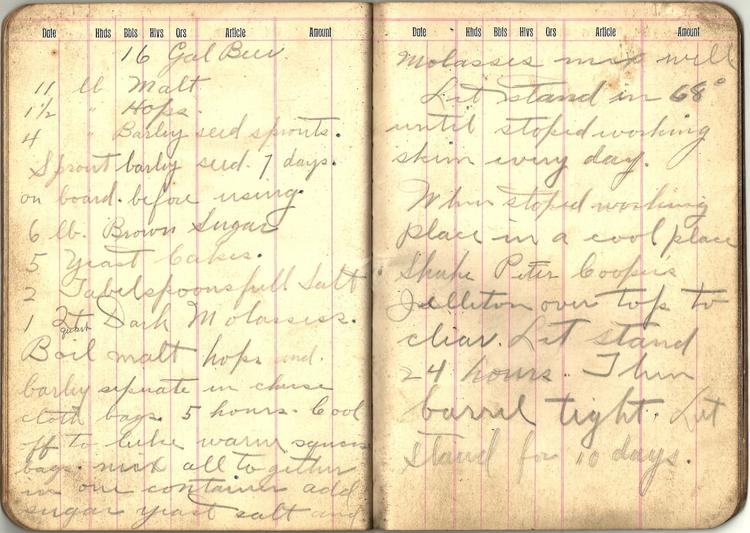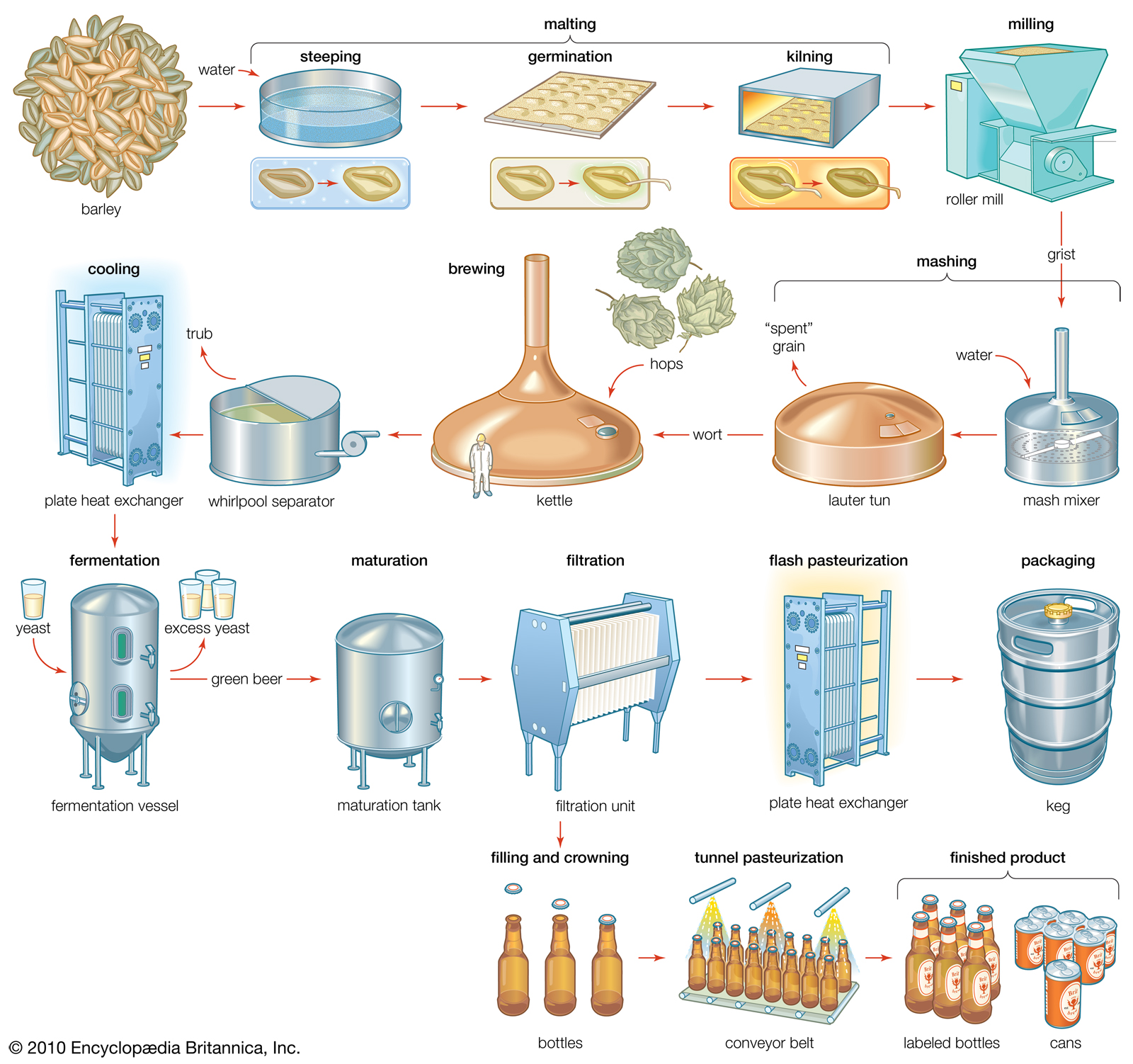 Math is hard (let's go brewing)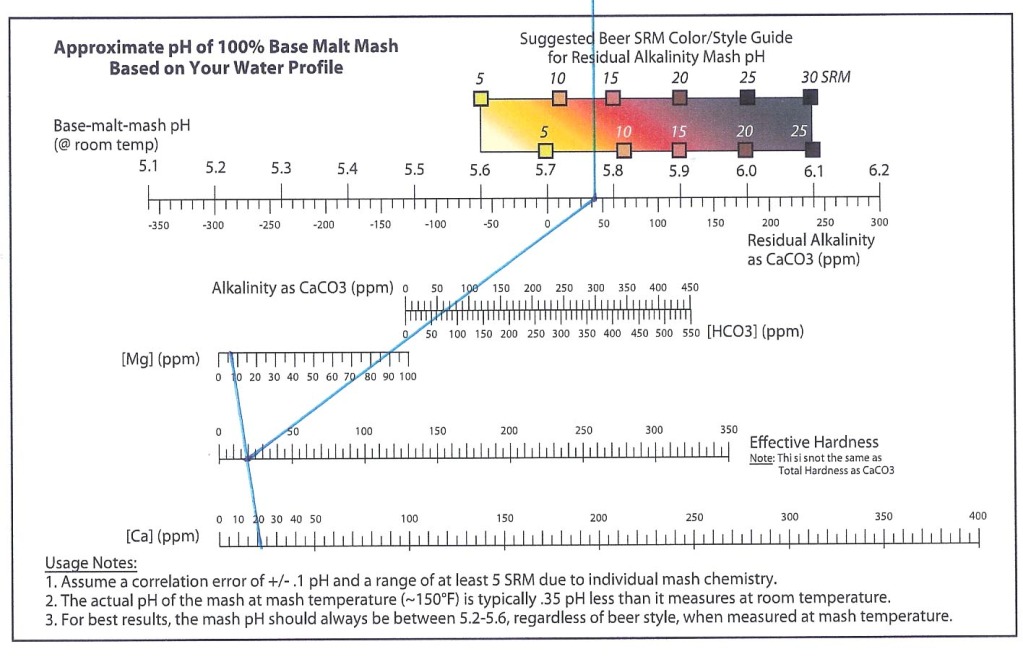 The best wheel

is the one that doesnt
require re-invention.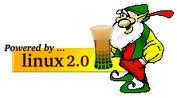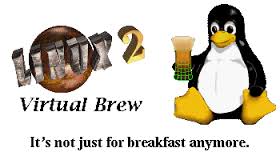 <HOP>
<NAME>Fuggles</NAME>
<VERSION>1</VERSION>
<ALPHA>4.5</ALPHA>
<AMOUNT>0.250</AMOUNT>
<USE>Dry Hop</USE>
<TIME>10080.0</TIME>
</HOP>

<FERMENTABLE>
<NAME>Pale 2-row Malt</NAME>]
<VERSION>1</VERSION>
<AMOUNT>5.0</AMOUNT>
<TYPE>Grain</TYPE>
<YIELD>73.4</YIELD>
<COLOR>3.0</COLOR>
</FERMENTABLE>

<YEAST>
<NAME>German Ale</NAME>
<TYPE>Ale</TYPE>
<VERSION>1</VERSION>
<FORM>Liquid</FORM>
<AMOUNT>0.250</AMOUNT>
<LABORATORY>Wyeast Labs</LABORATORY>
<MIN_TEMPERATURE>12.8</MIN_TEMPERATURE>
<MAX_TEMPERATURE>20.0</MAX_TEMPERATURE>
<ATTENUATION>75.0</ATTENUATION>
<NOTES>Crisp dry flavor with a hint of mild flavor. </NOTES>
<FLOCCULATION>Low</FLOCCULATION>
</YEAST>

<WATER>
<NAME>Amsterdam gemeentepils</NAME>
<VERSION>1</VERSION>
<AMOUNT>20.0</AMOUNT>
<CALCIUM>46.0</CALCIUM>
<MAGNESIUM>8.0</MAGNESIUM>
<SODIUM>60.0</SODIUM>
<SULFATE>24.0</SULFATE>
<CHLORIDE>73.0</CHLORIDE>
<BICARBONATE>183.0</BICARBONATE>
<PH>8.1</PH>
<NOTES>Gewoon, uit de kraan</NOTES>
</WATER>

<MISC>
<NAME>Coriander</NAME>
<TYPE>Spice</TYPE>
<VERSION>1</VERSION>
<USE>Boil</USE>
<TIME>5.0</TIME>
<AMOUNT>0.025</AMOUNT>
<USE_FOR>Belgian Wit Spice</USE_FOR>
<NOTES>Seeds, crushed</NOTES>
</MISC>

<EQUIPMENT>
<NAME>8 Gal pot with 5 gal Igloo Cooler</NAME>
<VERSION>1</VERSION>
<TUN_VOLUME>18.93</MASH_TUN_VOLUME>
<TUN_WEIGHT>2.0</MASH_TUN_WEIGHT>
<TUN_SPECIFIC_HEAT>0.3</TUN_SPECIFIC_HEAT>
<BATCH_SIZE>18.93</BATCH_SIZE>
<BOIL_SIZE>22.71</BOIL_SIZE>
<TOP_UP_WATER>0.0</TOP_UP_WATER>
<TRUB_CHILLER_LOSS>0.95</TRUB_CHILLER_LOSS>
<EVAP_RATE>9.0</EVAP_RATE>
<BOIL_TIME>60.0</BOIL_TIME>
<CALC_BOIL_VOLUME>TRUE</CALC_BOIL_VOLUME>
<LAUTER_DEADSPACE>0.95</LAUTER_DEADSPACE>
<TOP_UP_KETTLE>0.0</TOP_UP_KETTLE>
<HOP_UTILIZATION>100.0</HOP_UTILIZATION>
<NOTES>Nothing fancy.</NOTES>
</EQUIPMENT>

<STYLE>
<NAME>Bohemian Pilsner</NAME>
<CATEGORY>European Pale Ale</CATEGORY>
<CATEGORY_NUMBER>2</CATEGORY_NUMBER>
<STYLE_LETTER>A</STYLE_LETTER>
<STYLE_GUIDE>BJCP</STYLE_GUIDE>
<VERSION>1</VERSION>
<TYPE>Lager</TYPE>
<OG_MIN>1.044</OG_MIN>
<OG_MAX>1.056</OG_MAX>
<FG_MIN>1.013</FG_MIN>
<FG_MAX>1.017</FG_MAX>
<IBU_MIN>35.0</IBU_MIN>
<IBU_MAX>45.0</IBU_MAX>
<COLOR_MIN>3.0</COLOR_MIN>
<COLOR_MAX>5.0</COLOR_MAX>
<NOTES>Tasted good with sausage.</NOTES>
</STYLE>
<MASH>
<NAME>Two Step Temperature, 68C </NAME>
<VERSION>1</VERSION>
<GRAIN_TEMP>22.0</GRAIN_TEMP>
<TUN_TEMP>22.0</TUN_TEMP>
<SPARGE_TEMP>78.0</SPARGE_TEMP>
<MASH_STEPS>
<MASH_STEP>
<NAME>Protein Rest</NAME>
<VERSION>1</VERSION>
<TYPE>Temperature</TYPE>
<STEP_TEMP>49.0</STEP_TEMP>
<STEP_TIME>20.0</STEP_TIME>
<RAMP_TIME>10.0<RAMP_TIME>
<INFUSE_AMOUNT>15.0</INFUSE_AMOUNT>
</MASH_STEP>
<MASH_STEP>
<NAME>Conversion Step, 68 C</NAME>
<VERSION>1</VERSION>
<TYPE>Temperature</TYPE>
<STEP_TEMP>68.0</STEP_TEMP>
<RAMP_TIME>20.0<RAMP_TIME>
<STEP_TIME>60.0</STEP_TIME>
</MASH_STEP>
</MASH_STEPS>
</MASH>

<?xml version="1.0" encoding="ISO-8859-1"?>
<RECIPES>
…
</RECIPES>

<?xml version="1.0" encoding="ISO-8859-1"?>
<RECIPES>
<RECIPE>
<NAME>Gutrot Ale</NAME>
<VERSION>1</VERSION>
<TYPE>All Grain</TYPE>
<BREWER>Me, myself and I</BREWER>
<BATCH_SIZE>18.93</BATCH_SIZE>
<BOIL_SIZE>20.82</BOIL_SIZE>
<BOIL_TIME>60.0</BOIL_TIME>
<EFFICIENCY>72.0</EFFICIENCY>
<RATING>41</RATING>
<DATE>8 May 2015</DATE>
<OG>1.036</OG>
<FG>1.012</FG>
<CARBONATION>2.1</CARBONATION>
<CARBONATION_USED>Kegged</CARBONATION_USED>
<AGE>24.0</AGE>
<AGE_TEMP>17.0</AGE_TEMP>
<FERMENTATION_STAGES>2</FERMENTATION_STAGES>

<STYLE>
<NAME>Dry Stout</NAME>
<CATEGORY>Stout</CATEGORY>
<CATEGORY_NUMBER>16</CATEGORY_NUMBER>
<STYLE_LETTER>A</STYLE_LETTER>
<STYLE_GUIDE>BJCP</STYLE_GUIDE>
<VERSION>1</VERSION>
<TYPE>Ale</TYPE>
<OG_MIN>1.035</OG_MIN>
<OG_MAX>1.050</OG_MAX>
<FG_MIN>1.007</FG_MIN>
<FG_MAX>1.011</FG_MAX>
<IBU_MIN>30.0</IBU_MIN>
<IBU_MAX>50.0</IBU_MAX>
<COLOR_MIN>35.0</COLOR_MIN>
<COLOR_MAX>200.0</COLOR_MAX>
<ABV_MIN>3.2</ABV_MIN>
<ABV_MAX>5.5</ABV_MAX>
<CARB_MIN>1.6</CARB_MIN>
<CARB_MAX>2.1</CARB_MAX>
<NOTES>My dad used to like this a lot.</NOTES>
</STYLE>
<HOPS>
<HOP>
...
</HOP>
</HOPS>
<FERMENTABLES>
<FERMENTABLE>
...
</FERMENTABLE>
</FERMENTABLES>
<MISCS>
<MISC>
...
</MISC>
</MISCS>

<WATERS>
<WATER>
...
</WATER>
</WATERS>
...

Yeasts,
Equipment
and
Mash
</RECIPE>
</RECIPES>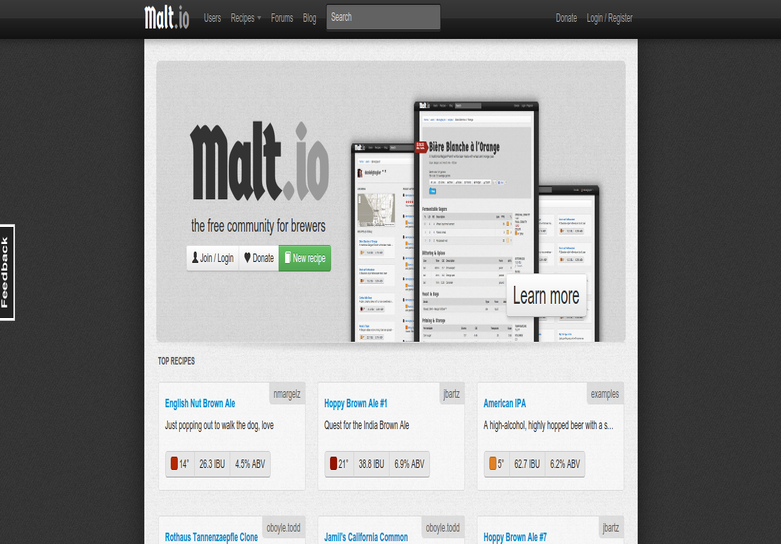 malt.io
Brauhaus.js
Tapline
zython.me
WordPress plugin
C, Perl, PHP, Go

Brewtarget
QBrew
Beersmith 2
Brouwvisie
BeerAlchemy.app
(ProMash via conversion)

Android
[BrewersFriend Mobile] Companion for BrewersFriend site
[Beersmith2 Lite] BeerSmith2 Lite, Mobile versionl
[Brewer's Assistant] Recipe Calculator

IOS
[BrewPal 3] IOS recipe calculator and brew-assistant
[HomebewAssistant] IOS Recipe calculator and brew-assistant
[BrewersFriend Mobile] Companion for BrewersFriend site
[BeerAlchemyTouch]Mobile variant of BeerAlchemy.app

[BrewCore BrewUI]
Server+ UI software for BrewFactory

[StrangeBrew Elsinore]
Server-software to run on RaspBerry PI

Automation of stressy parts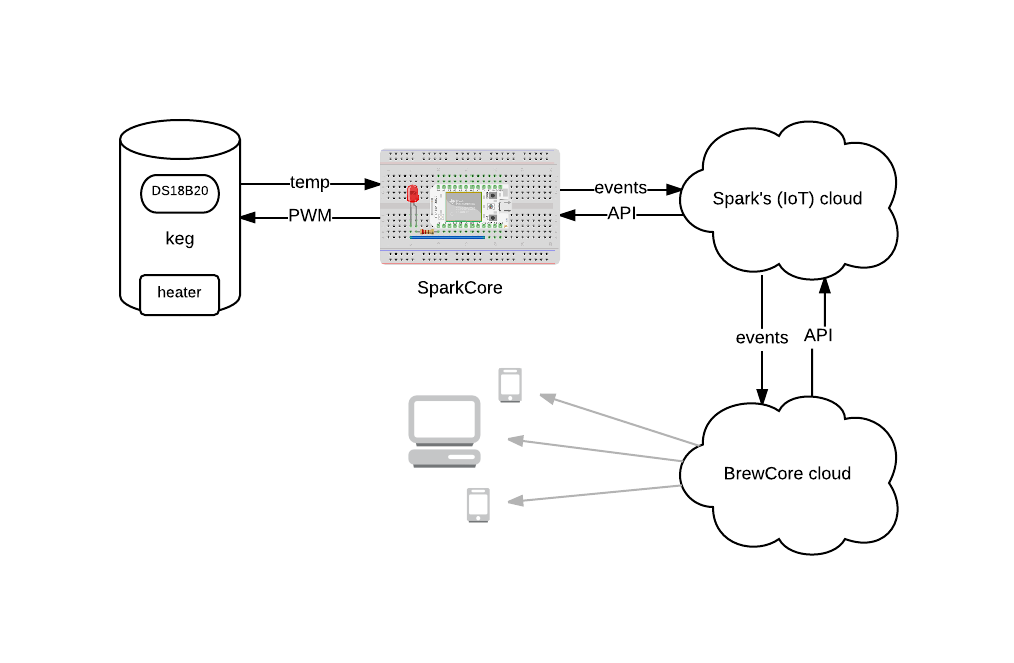 Automation of stressy parts

Hosehead controller
StrangeBrew Elsinore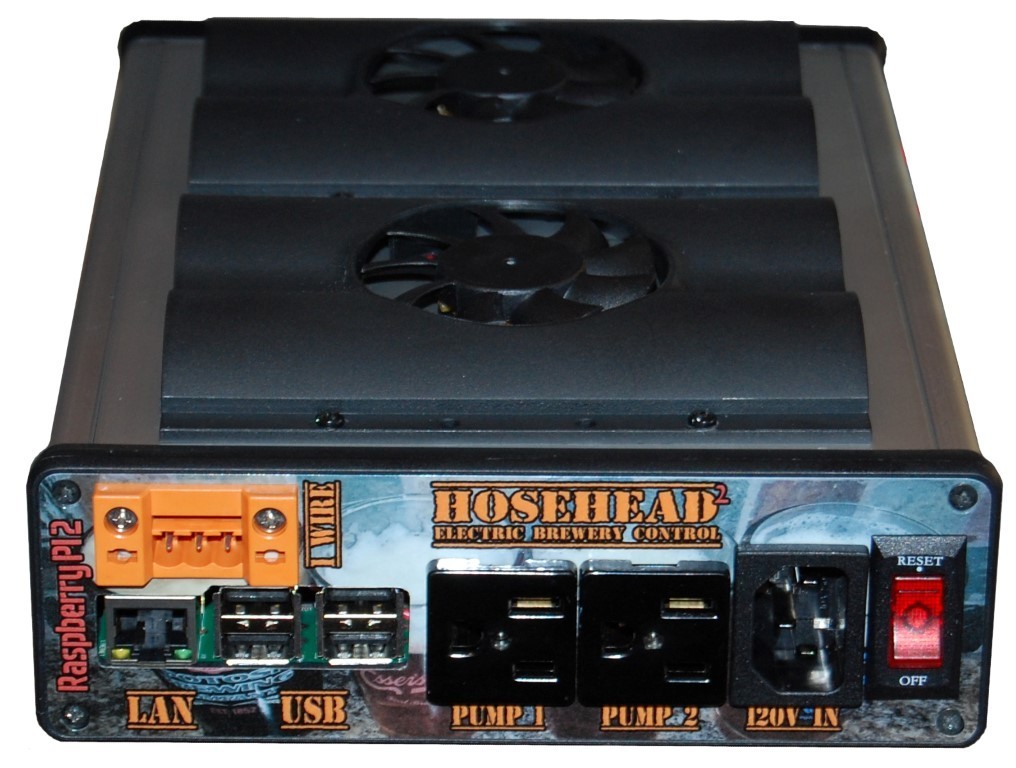 Automation of stressy parts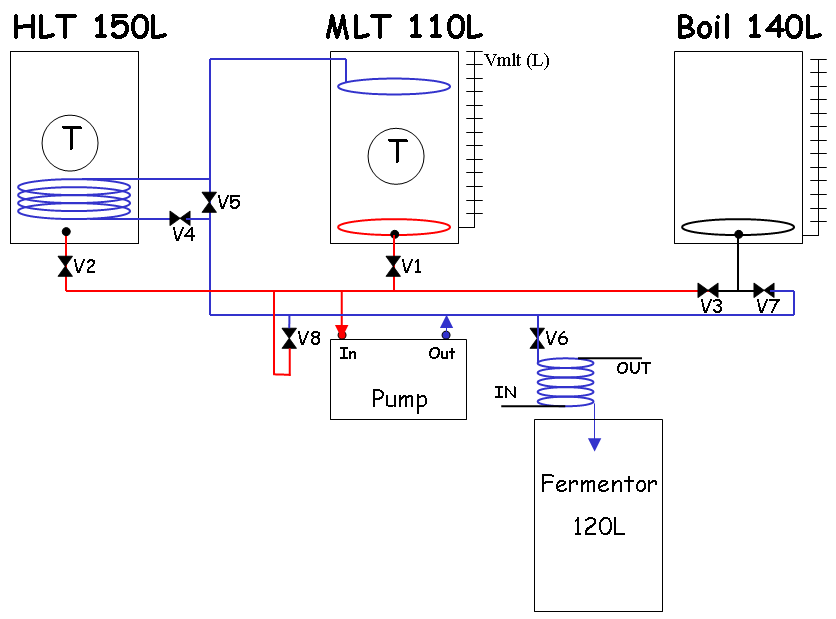 Automation of boring parts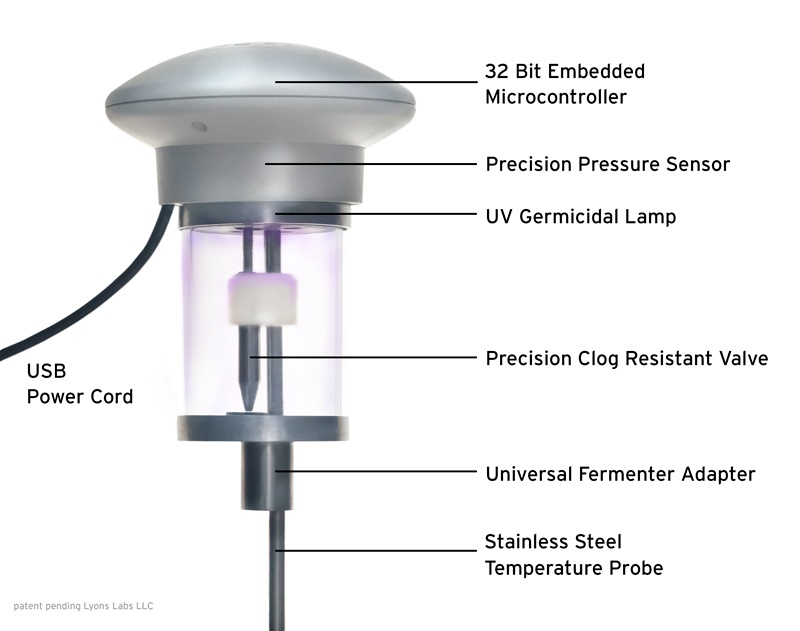 Use a spacebar or arrow keys to navigate